We are working on a brand new version of the game! If you want to stay informed, read our blog and register for our mailing list.
Mängəstä Kobura (Cobura)[?]
United in difference.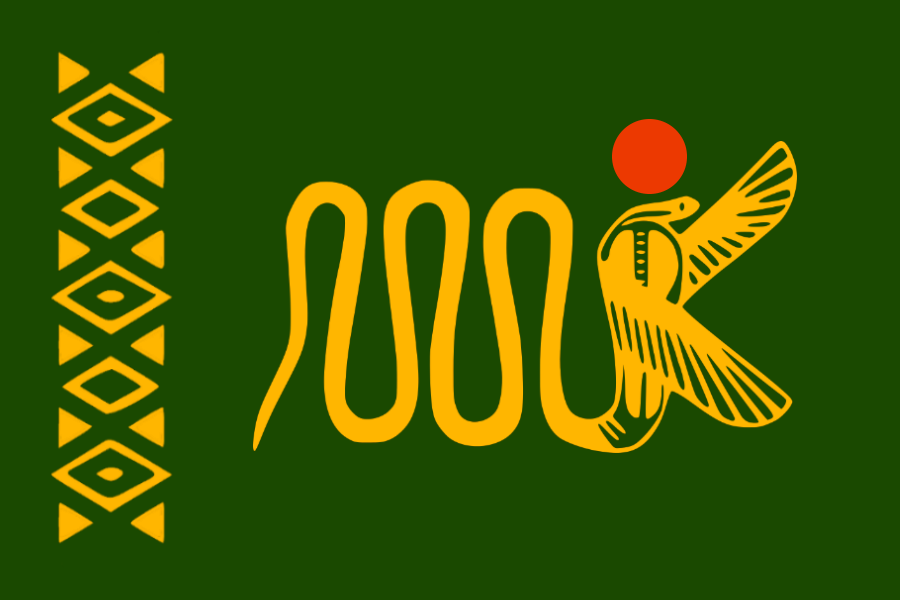 Newspaper: Mängəstä Kobura (Cobura) Daily
Geography
Note: the region name colours may be badly readable. It will be fixed in the future.
Politics
Head of State[?]: His Imperial Majesty Emperor Mautse III, Seyoume Igziabeher (Elect of God), Getochu (Patriarch) of the Sovereign House of Kobura. .
Head of Government[?]: Grand Minister Meskhenet Kema (
Cobura Labour Party)
Cabinet: click here to view the cabinet.
Crown Council[?]: currently 705 seats[?], will be 705 after next election
Last Election Results: click here
Next Election[?]: July 5120
Parties[?]:
Click here for a comparison of the party voting records.
For election history, click here.
Opinions
View detailed political opinions.
| | | | | |
| --- | --- | --- | --- | --- |
| Centralization[?] | Unitarism | | Devolution | Importance: vital |
| Civil Rights[?] | Restrictive | | Permissive | Importance: vital |
| Ecology[?] | Skeptic | | Environmentalist | Importance: tiny |
| Foreign Relations[?] | Isolationalism | | Internationalism | Importance: tiny |
| Government Responsibilities[?] | Small Government | | Big Government | Importance: strong |
| Market[?] | Regulation | | Capitalism | Importance: tiny |
| Military[?] | Pacifist | | Aggressive | Importance: tiny |
| Morality[?] | Conservative | | Progressive | Importance: small |
| Religion[?] | Secular | | Fanatic | Importance: strong |
Diplomacy
View diplomatic details.
Economics
Click here to inspect the national budget.
Demographics
Cities: view here.
Population[?]: 99,618,317
Culture
National Sport: Football
National Animal: Ourō Ajō/Yängus Əbab (Royal Cobra)
National Anthem:
The Triumph of Lord Psentkeri the Great
When my Menna, charioteer, beheld in his dismay,
How the horses swarmed around us, lo! his courage fled away,
And terror and affright
Took possession of him quite;
"Gracious lord and bravest king, savior-guard
Of Cobura, in the battle, be our ward;
Behold we stand alone, in the hostile Celtoric ring,
Save for us the breath of life,
Give deliverance from the strife,
Oh! save us, mighty Lord!"
"Halt! take courage, charioteer
As a sparrow-hawk swoops down upon his prey,
So I swoop upon the foe, and I will slay,
I will hew them into pieces, I will dash them into dust;
Have no fear,
Cast such evil thought away,
These godless men are wretches that in Ajore put no trust."
Then the Lord, he hurried forward, on the Celtoric host he flew,
"For the sixth time that I charged them," says the king---and listen well,
"Like Noshep in his strength, on their rearward, lo! I fell,
And I killed them, none escaped me, and I slew, and slew, and slew."
Menigišiti (Kingdom) List
The subnational divisions, also referred to as regions[?], of the Mängəstä Kobura (Cobura) are each referred to as a Menigišiti (Kingdom).
Legislation
To view the laws currently in effect, click here.
To view the legislative history of this nation, click here.
Bills under debate
These bills are currently under debate[?].
Bills being voted upon
These bills are currently being voted[?] upon.
| | | |
| --- | --- | --- |
| Bill Created | Vote Started | Title |
Messages
---
Random fact: "Jezvraljogadsrlji" means "Social" in the Jelbic languages.
---
Random quote: "You cannot open a book without learning something." - Confucius
---