We are working on a brand new version of the game! If you want to stay informed, read our blog and register for our mailing list.
Esinsundu Empire, የኩቦራ ስፔኖች አስተዳዳሪዎች (United Governorates of Cobura)[?]
Strengthened by Unity, Liberated by Diversity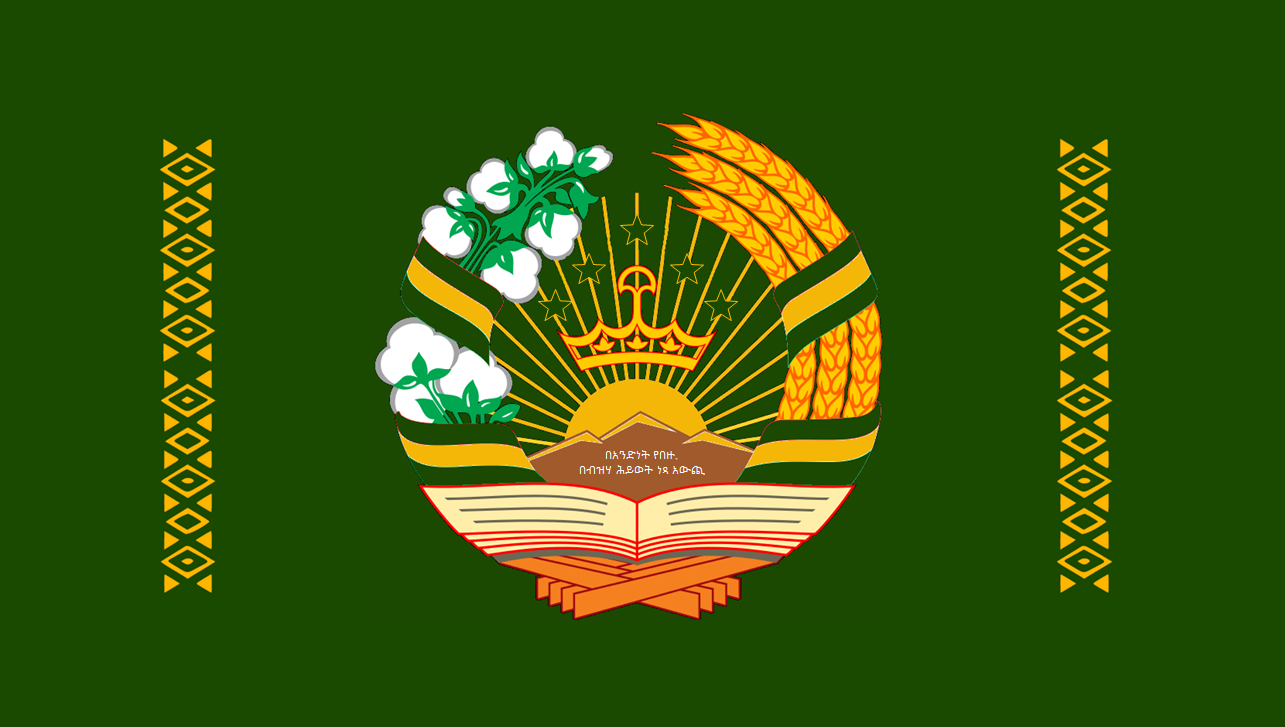 Newspaper: Esinsundu Empire, የኩቦራ ስፔኖች አስተዳዳሪዎች (United Governorates of Cobura) Daily
Geography
Note: the region name colours may be badly readable. It will be fixed in the future.
Politics
Head of State[?]: The Imperial Majesty of the Peraa Gaxenxt sat Mumenhes Aminatu Saksoure IX, the perfect Goddess living forever, Empress Esintsundu, Pharaoh of ḥꜥȝsu Mnhs, Queen of Talmoria and Aslistan, Candace of Cobura and Princess of Domale-Irkawa, sacred of appearances as Nošep, Baši Mighty Falcon arising in Neuhaus, Divine Adoratrice of Mumenhes of Nekhatw, Princess of Ibutho, Princess du Sang de Rildanor, foremost of noble ladies, Great of Strength, all countries being prostrate beneath Her feet forever .
Head of Government[?]: ጠቅላይ ሚኒስትር (Prime Minister) Diamo Tesfaye (
Bilits'igina Ina Fitihi)
Cabinet: click here to view the cabinet.
የተወካዮች ምክር ቤት (House of Representatives)[?]: currently 355 seats[?], will be 355 after next election
Last Election Results: click here
Next Election[?]: April 4417
Parties[?]:
Click here for a comparison of the party voting records.
For election history, click here.
Opinions
View detailed political opinions.
| | | | | |
| --- | --- | --- | --- | --- |
| Centralization[?] | Unitarism | | Devolution | Importance: vital |
| Civil Rights[?] | Restrictive | | Permissive | Importance: vital |
| Ecology[?] | Skeptic | | Environmentalist | Importance: tiny |
| Foreign Relations[?] | Isolationalism | | Internationalism | Importance: tiny |
| Government Responsibilities[?] | Small Government | | Big Government | Importance: strong |
| Market[?] | Regulation | | Capitalism | Importance: tiny |
| Military[?] | Pacifist | | Aggressive | Importance: tiny |
| Morality[?] | Conservative | | Progressive | Importance: strong |
| Religion[?] | Secular | | Fanatic | Importance: tiny |
Diplomacy
View diplomatic details.
Economics
Click here to inspect the national budget.
Demographics
Cities: view here.
Population[?]: 99,694,811
Culture
National Sport: Kabado (Kabaddi)
National Animal: ሮያል ኮብራ (Royal Cobra)
National Anthem:
Kobura, Kobura, Kobura, qidämī
(Mallan)

Kobura, kobura, kobura qidä mi
net͟s'anetis'äbbibi lämlimi!
Qal kidan gäbtäwal jägnoch lijotchishi,
wänzoch tärarotchish dingil märetishi
lä'kobura 'ändinät länäṣ́anätishi
mäswa't lihonu läkibir läzinashi!
Täramäji wädäfit bäṭəbabə godana
Taṭäqi läśira lagär biliṣigina!
Yäjägnoch 'inat näsh bälijochish kuri
Ṭälatochish yiṭfu läzälaläm nuri!
lerejimi gīzē ābiyotu yinoru neberi,
yegezhiwochwani rejimi 'idimē yinikebakebalu,
ye'āgerītu zēgochi, ānidineti!

Cobura, Cobura, Cobura be first
(Luthorian Translation)

Cobura, Cobura – Cobura, be first
In liberty– flourish, be fertile!
Your brave sons have made a covenant,
That your rivers and mountains, your virgin land
Should be a sacrifice for the unity of Cobura, for your freedom,
To your honour and renown!
Strive forwards on the road of wisdom,
Gird yourself for the task,
For the prosperity of the land!
You are the mother of heroes – be proud of your sons,
May your enemies perish – may you live for ever!
Long live the governorates,
Citizens of the land, unite!
Governorate List
The subnational divisions, also referred to as regions[?], of the Esinsundu Empire, የኩቦራ ስፔኖች አስተዳዳሪዎች (United Governorates of Cobura) are each referred to as a Governorate.
Legislation
To view the laws currently in effect, click here.
To view the legislative history of this nation, click here.
Bills under debate
These bills are currently under debate[?].
Bills being voted upon
These bills are currently being voted[?] upon.
Messages
---
Random fact: Laws outlined in bill descriptions but not specified in game mechanic proposals are known as "role-play laws" or "RP laws" and are recognised under the rules as binding. Constitutional RP laws require a 2/3rds majority, just like game mechanic constitutional laws. Non-constitutional RP laws require a simple majority, just like non-constitutional game mechanic laws.
---
Random quote: "I would rather be exposed to the inconveniences attending too much liberty than to those attending too small a degree of it." - Thomas Jefferson
---