Yetebaberuti Menigišitati ya Kobura (United Kingdoms of Cobura)[?]
Strengthened by Unity, Liberated by Diversity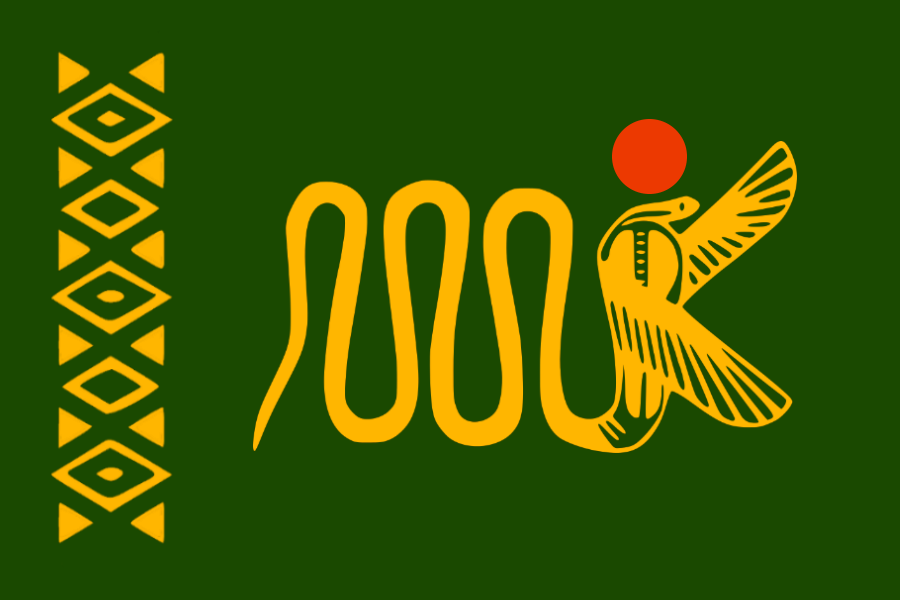 Newspaper: Yetebaberuti Menigišitati ya Kobura (United Kingdoms of Cobura) Daily
Geography
Note: the region name colours may be badly readable. It will be fixed in the future.
Politics
Head of State[?]: President Dimitrio Aburo (
Socialist Alliance)
Head of Government[?]: Enepanastasē (Revolutionary) Boethio Diasoreno (
Socialist Alliance)
Cabinet: click here to view the cabinet.
Thōouts (The Assembly)[?]: currently 350 seats[?], will be 350 after next election
Last Election Results: click here
Next Election[?]: June 4312
Parties[?]:
Click here for a comparison of the party voting records.
For election history, click here.
Opinions
View detailed political opinions.
| | | | | |
| --- | --- | --- | --- | --- |
| Centralization[?] | Unitarism | | Devolution | Importance: vital |
| Civil Rights[?] | Restrictive | | Permissive | Importance: vital |
| Ecology[?] | Skeptic | | Environmentalist | Importance: tiny |
| Foreign Relations[?] | Isolationalism | | Internationalism | Importance: tiny |
| Government Responsibilities[?] | Small Government | | Big Government | Importance: dominant |
| Market[?] | Regulation | | Capitalism | Importance: tiny |
| Military[?] | Pacifist | | Aggressive | Importance: tiny |
| Morality[?] | Conservative | | Progressive | Importance: small |
| Religion[?] | Secular | | Fanatic | Importance: strong |
Diplomacy
View diplomatic details.
Economics
Click here to inspect the national budget.
Demographics
Capital City: Sharba (Irkawa, Lordship of Irkawa)
Cities: view here.
Population[?]: 99,559,041
Culture
National Sport: Ŝako (Chess)
National Animal: Ourō Ajō/Yängus Əbab (Royal Cobra)
National Anthem:
Kobura, Kobura, Kobura, qidämī
(Mallan)

Kobura, kobura, kobura qidä mi
kapitālisms 'äbbibi lämlimi!
Qal kidan gäbtäwal jägnoch lijotchishi,
wänzoch tärarotchish dingil märetishi
lä'kobura 'ändinät länäṣ́anätishi
mäswa't lihonu läkibir läzinashi!
Täramäji wädäfit bäṭəbabə godana
Taṭäqi läśira lagär biliṣigina!
Yäjägnoch 'inat näsh bälijochish kuri
Ṭälatochish yiṭfu läzälaläm nuri!

Ethiopia, Ethiopia, Ethiopia be first
(Luthorian Translation)

Cobura, Cobura – Cobura, be first
In capitalism – flourish, be fertile!
Your brave sons have made a covenant,
That your rivers and mountains, your virgin land
Should be a sacrifice for the unity of Cobura, for your freedom,
To your honour and renown!
Strive forwards on the road of wisdom,
Gird yourself for the task,
For the prosperity of the land!
You are the mother of heroes – be proud of your sons,
May your enemies perish – may you live for ever!
Eparkhia (Province) List
The subnational divisions, also referred to as regions[?], of the Yetebaberuti Menigišitati ya Kobura (United Kingdoms of Cobura) are each referred to as a Eparkhia (Province).
Legislation
To view the laws currently in effect, click here.
To view the legislative history of this nation, click here.
Bills under debate
These bills are currently under debate[?].
Bills being voted upon
These bills are currently being voted[?] upon.
Messages
---
Random fact: Players are expected to behave in a courteous, co-operative manner and make a reasonable effort to act with the consent of all players involved, even where the rules do not make consent strictly necessary. In particular, players have a responsibility to take reasonable care that other players are not misinformed either about the role-play or the Game Rules.
---
Random quote: "The most radical revolutionary will become a conservative the day after the revolution." - Hannah Arendt
---