Pntek Wrntunyfkai Hldjogad (Pontesian Dynastic Commonwealth)[?]
Fortitudine Vincimus (By endurance we conquer)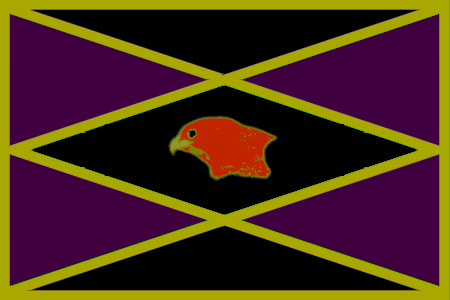 Newspaper: Pntek Wrntunyfkai Hldjogad (Pontesian Dynastic Commonwealth) Daily
Geography
Note: the region name colours may be badly readable. It will be fixed in the future.
Politics
Head of State[?]: His Serene Highness, Paullus of the Aedini, Prince of Pontesia, Lord Protector of the Dynastic Commonwealth and the liberties and rights of all Pontesians, Jeztriék Atabék/Atabeg Accipitrum (Atabeg of the Hawks) .
Head of Government[?]: Grand Vizier General Theodora "Thea" Melodia (
Aurora Libertatis)
Cabinet: click here to view the cabinet.
Sugirék Ozthrék Agsnki Kaisrne (August Senate of the Cedar Throne)[?]: currently 75 seats[?], will be 75 after next election
Last Election Results: click here
Next Election[?]: June 4369
Parties[?]:
Click here for a comparison of the party voting records.
For election history, click here.
Opinions
View detailed political opinions.
| | | | | |
| --- | --- | --- | --- | --- |
| Centralization[?] | Unitarism | | Devolution | Importance: vital |
| Civil Rights[?] | Restrictive | | Permissive | Importance: small |
| Ecology[?] | Skeptic | | Environmentalist | Importance: strong |
| Foreign Relations[?] | Isolationalism | | Internationalism | Importance: strong |
| Government Responsibilities[?] | Small Government | | Big Government | Importance: dominant |
| Market[?] | Regulation | | Capitalism | Importance: small |
| Military[?] | Pacifist | | Aggressive | Importance: small |
| Morality[?] | Conservative | | Progressive | Importance: tiny |
| Religion[?] | Secular | | Fanatic | Importance: tiny |
Diplomacy
View diplomatic details.
Economics
Click here to inspect the national budget.
Demographics
Capital City: Dawnstar (Campus Stella) (Bazileum)
Cities: view here.
Population[?]: 99,714,680
Culture
National Sport: Match Crossbow
National Animal: Red-tailed Hawk
National Anthem:
Oh Fatherland, Fatherland, show us a sign,
To lead us from hatred and substance malign;
I wake from my slumber and gaze at the day,
Yet look to you always to show me the way;
Through sword, bow and arrows, the perils I've slayed,
Would make e'er a weaker man sorely afraid;
But with such a guidance I'll never stray,
My Fatherland is my way.

Oh Motherland, Motherland, tell us again,
Of those you repulsed as they challenged your reign;
The grass recalls battles, our stalwart prowess,
The hawks soaring over note how we progress;
Building our futures with esprit de coeur,
We're once, twice, thrice, evermore striken with awe;
But with my own glorious part to play,
My Motherland is my way.

Oh Pontesia, Pontesia, let us once more,
Praise your grand name as our fathers before;
As one valiant nation to challenge the sins,
That fell naive countries whose morals wore thin;
I will fight for home, my morale will not break,
With forces of wickedness slain in my wake,
It's with such a realm that my loyalty stays
My Pontesia is my way.
Satrapy List
The subnational divisions, also referred to as regions[?], of the Pntek Wrntunyfkai Hldjogad (Pontesian Dynastic Commonwealth) are each referred to as a Satrapy.
Legislation
To view the laws currently in effect, click here.
To view the legislative history of this nation, click here.
Bills under debate
These bills are currently under debate[?].
Bills being voted upon
These bills are currently being voted[?] upon.
| | | |
| --- | --- | --- |
| Bill Created | Vote Started | Title |
Messages
---
Random fact: Keymon is Particracy's smallest nation, with only 1 region and 20 million people.
---
Random quote: <script type="text/javascript"> google_ad_client = "ca-pub-2385483047681341"; google_ad_slot = "8054645962"; google_ad_width = 728; google_ad_height = 90; </script> <!-- Test --> <script type="text/javascript" src="//pagead2.googlesyndication.com/pagead/show_ads.js"> </script>"Zardugal. . . very successfully almost managed to implement democracy on a global scale, a millennia ago. With a seat in the Security Council we can do it again." � Dr. Phoebe Ĥoniato, The Face of Stop the Slavers - Vote for Zardugal, a campaign supporting Zardugal's bid for the 4112 World Congress Security Council elections
---