We are working on a brand new version of the game! If you want to stay informed, read our blog and register for our mailing list.
Mikuni (Mikuni-Hulstria)[?]
民為貴,社稷次之,君為輕。(The people are the most important element in a nation; the spirits of the land and grain come next; the sovereign counts for the least.)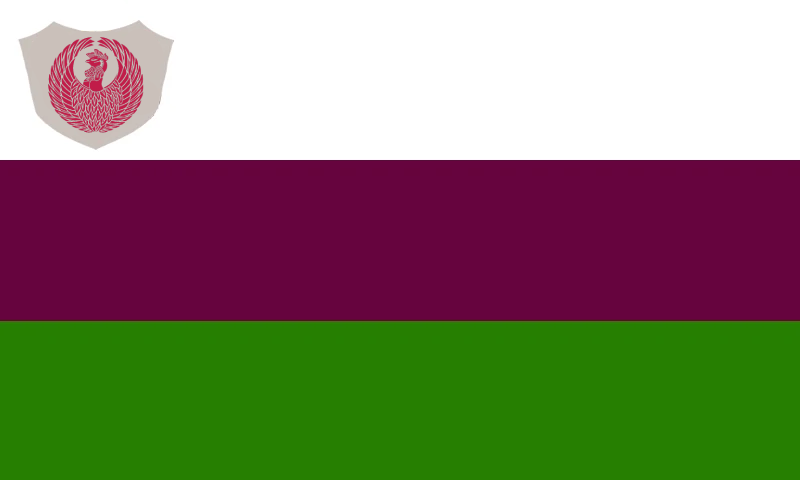 Newspaper: Mikuni (Mikuni-Hulstria) Daily
Geography
Note: the region name colours may be badly readable. It will be fixed in the future.
Politics
Head of State[?]: Elected Representative of His Imperial and Heavenly Majesty, Tōgen Masahito, the Tenkei Emperor of Mikuni and of the Later Meishi Dynasty, Chancellor of the Realm of Mikuni NAKAJIMA Nikurasu (
Hōōkai)
Head of Government[?]: Daikakushi (Grand Secretary) KARUTENBURUN'NĀ Jūrō (
Hōōkai)
Cabinet: click here to view the cabinet.
国会 (Kokkai, Natsionarutagu)[?]: currently 0 seats[?], will be 450 after next election
Last Election Results: click here
Next Election[?]: April 5218
Parties[?]:
Click here for a comparison of the party voting records.
For election history, click here.
Opinions
View detailed political opinions.
| | | | | |
| --- | --- | --- | --- | --- |
| Centralization[?] | Unitarism | | Devolution | Importance: tiny |
| Civil Rights[?] | Restrictive | | Permissive | Importance: moderate |
| Ecology[?] | Skeptic | | Environmentalist | Importance: vital |
| Foreign Relations[?] | Isolationalism | | Internationalism | Importance: dominant |
| Government Responsibilities[?] | Small Government | | Big Government | Importance: moderate |
| Market[?] | Regulation | | Capitalism | Importance: strong |
| Military[?] | Pacifist | | Aggressive | Importance: moderate |
| Morality[?] | Conservative | | Progressive | Importance: tiny |
| Religion[?] | Secular | | Fanatic | Importance: tiny |
Diplomacy
View diplomatic details.
Economics
Click here to inspect the national budget.
Demographics
Capital City: Miyako (東野道 (Tōyadō))
Cities: view here.
Population[?]: 99,851,849
Culture
National Sport: Fussball (Football)
National Animal: .
National Anthem:
Unity of the Later Meishi


Classical Kunikata (Classical Chinese):

後明志一統,聖壽萬年。
有詔頒降,許人直言。
君量寬海,聖德光天。
賞善罰惡,納諫任賢。
崇儒鑒史,固國輕權。
清心寡慾,益壽彌堅。

踐祚念苦,欲民從輕。
用度節儉,儲積豊盈。
隄防邊塞,操練精兵。
明正綱紀,太平風聲。
天長地久,海晏河清。

兆民賴之,萬邦以貞。
有德皇猷,無憂羽翼。
百事具忠,直言諫勸。

居草茅以何酬兮,瞻金門而難入。
托情悃於絲桐兮,聊申懷於雅趣。
鳳凰翔於霄漢兮,覽德輝而斯寓。

麒麟見於郊藪兮,遭聖明而斯集。
吁嗟吁嗟黼黻兮,我曹何能及。
懷九州而想君兮,草莽俱同一。
直言疏進忠義兮,此心何絕期。
高山流水志在兮,白雪陽春陶隱逸。
後明志一統號琴名,萬古千秋明聖治。

帝萬歲萬萬歲。

Luthorian (English):

The Later Meishi is united, may the emperor live myriad years!
His decrees are sent from above, but allow people to voice their opinions directly.
The ruler's capacity is magnanimous, his sacred virtue brightening the firmament.
Rewarding the good while punishing the bad, giving reprimands while rewarding the worthy.
Venerating Jienist thought and examining history, strengthening the country with gentle power.
A pure heart with few desires, adding years to lives full and strong.

Having ascending the throne he recalls the bitterness that preceded it, and thus wishes to be lenient with common folk,
When spending he is careful and frugal, accumulations bringing prosperity.
Defending the frontier, drilling skilled soldiers,
Clear and just principles, spreading the clarion call of peace.
Heaven and earth will last forever, with seas calm and rivers clear.

All the people have trust in him, all countries rely on what is correct.
Having virtuous imperial wisdom, he does not distress his ministers.
In a hundred affairs all are devoted, in plain words counseling what is right.

Living in thatched homes what can one use for rewards? We can gaze at the Golden Gate but it is hard to enter.
So we express sincere feelings through the silk and wood; and expand emotions with elegant taste.
The phoenix soars to the Milky Way, gazing at brilliant shining virtue while residing there.

Unicorns are seen in remote marshes, meeting sacred personages as they collect there.
Alas! Alas! O ancient sacrificial dress: at my level how can my clothing compare?
We cherish the country and fondly think of its leaders, even people living in the wild think the same.
Having used plain words to give advice with loyalty and righteousness, how could this heart forget you?
High Mountains and Flowing Streams: the aim is here; White Snow and Sunny Spring: pleased to hide in retirement.
The Later Meishi uniform rule is called out in the qin's name, through all eternity is the sacred Meishi rule.

To the emperor: long life! Long long life!
道 (Dō / Bezāku) List
The subnational divisions, also referred to as regions[?], of the Mikuni (Mikuni-Hulstria) are each referred to as a 道 (Dō / Bezāku).
Legislation
To view the laws currently in effect, click here.
To view the legislative history of this nation, click here.
Bills under debate
These bills are currently under debate[?].
Bills being voted upon
These bills are currently being voted[?] upon.
| | | |
| --- | --- | --- |
| Bill Created | Vote Started | Title |
Messages
---
Random fact: Particracy does not allow role-play that seems to belong to the world of fantasy, science fiction and futuristic speculation.
---
Random quote: "Before all else, be armed." - Niccolo Machiavelli
---