Free State of Malivia[?]
Out of many, One People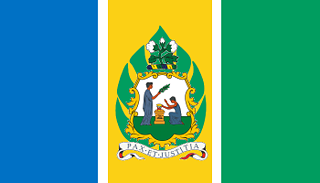 Newspaper: Free State of Malivia Daily
Geography
Note: the region name colours may be badly readable. It will be fixed in the future.
Politics
Head of State[?]: President of the Free State of Malivia Ms. Juliette Cazembe (
Wind of Change)
Head of Government[?]: Prime Minister Dr Julian Ferdinand (Unity Labour Party)
Cabinet: click here to view the cabinet.
Parliament[?]: currently 600 seats[?], will be 600 after next election
Last Election Results: click here
Next Election[?]: September 4311
Parties[?]:
Click here for a comparison of the party voting records.
For election history, click here.
Opinions
View detailed political opinions.
| | | | | |
| --- | --- | --- | --- | --- |
| Centralization[?] | Unitarism | | Devolution | Importance: tiny |
| Civil Rights[?] | Restrictive | | Permissive | Importance: vital |
| Ecology[?] | Skeptic | | Environmentalist | Importance: small |
| Foreign Relations[?] | Isolationalism | | Internationalism | Importance: vital |
| Government Responsibilities[?] | Small Government | | Big Government | Importance: tiny |
| Market[?] | Regulation | | Capitalism | Importance: small |
| Military[?] | Pacifist | | Aggressive | Importance: tiny |
| Morality[?] | Conservative | | Progressive | Importance: tiny |
| Religion[?] | Secular | | Fanatic | Importance: moderate |
Diplomacy
View diplomatic details.
Economics
Click here to inspect the national budget.
Demographics
Capital City: Hitam (Bhulkhandra)
Cities: view here.
Population[?]: 99,472,686
Culture
National Sport: Cricket
National Animal: Malivian Parrot (Amazona maximus)
National Anthem:
Rise, O Voices of Malivia

Rise, O voices of Malivia,
Plentiful thy people's bounty share
Give us strength to face all danger,
And where challenge is, to dare.
Guide us, Malivia, to wise decision,
Ever of Thy poise aware,
Oh, let our hearts beat bravely always
For this land within Thy care.

Rise, O voices of Malivia,
Bringing her your proud acclaim,
Grandly echoing through the mountains,
Rolling o'er the far flung plain.
Roaring in the mighty rivers,
Joining in one grand refrain,
Ascending to the sunlit heavens,
Telling of her honoured name.
Constituencies List
The subnational divisions, also referred to as regions[?], of the Free State of Malivia are each referred to as a Constituencies.
Legislation
To view the laws currently in effect, click here.
To view the legislative history of this nation, click here.
Bills under debate
These bills are currently under debate[?].
Bills being voted upon
These bills are currently being voted[?] upon.
Messages
---
Random fact: The influence a bill has on elections decreases over time, until it eventually is no longer relevant. This can explain shifts in your party's position to the electorate and your visibility.
---
Random quote: <script type="text/javascript"> google_ad_client = "ca-pub-2385483047681341"; google_ad_slot = "8054645962"; google_ad_width = 728; google_ad_height = 90; </script> <!-- Test --> <script type="text/javascript" src="//pagead2.googlesyndication.com/pagead/show_ads.js"> </script>"Zardugal. . . very successfully almost managed to implement democracy on a global scale, a millennia ago. With a seat in the Security Council we can do it again." � Dr. Phoebe Ĥoniato, The Face of Stop the Slavers - Vote for Zardugal, a campaign supporting Zardugal's bid for the 4112 World Congress Security Council elections
---